Every PCSSD staff member is encouraged to wear red on Tuesday, October 15 in honor of World Dyslexia Day.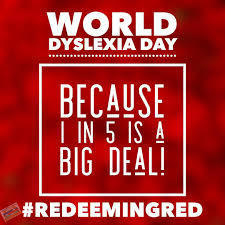 October is National Bullying Prevention Month. The National Bullying Prevention Center provides a "Kids Against Bullying" pledge encouraging kids to speak up against bullying, support those being bullied & to be a friend when they see bullying.
http://ow.ly/snaM50wEVmm

The calendar can now be found in EVENTS. Important district-wide dates will be posted on the PCSSD website. School-specific dates will be posted on their respective school websites. You can view the "At-A-Glance" calendar here:
https://5il.co/amrb


Daisy Bates Community. This is a reminder that this Thursday, the 26th, is the rescheduled date for our Title One Family Night and Open House. It will run from 5:30 - 7:30pm. We look forward to seeing everyone Thursday evening.

Many 4th & 5th grade students expressed an interest in choir and took home papers today that must completed returned tomorrow. Please, check with your child regarding his or her interest in choir and make sure the papers get turned in. Please, contact Mrs. Perry with questions.
Parents, please remember to ask your child about their Interim Report.

Daisy Bates Parents and Students! Please remember that the choir audition forms are due tomorrow, Tuesday. Please turn them into Mrs. Perry.

Daisy Bates Community - We are cancelling tonight's Title I/Open House event and rescheduling it to Thursday, September 26th, from 5:30 - 7:30. We look forward to see you on September 26th.

Daisy Bates Community, Thursday, August 29th, will be the Title One Family Night. Please come out and join us for some great information and food. An RSVP form went home today with our students. Please return it by Tuesday, so we can make sure we have the correct amount of food.

Daisy Bates Elementary Students and Parents: There will be a meet and greet on Monday, Aug 12th, at 6pm. We invite all parents and students to come meet their teachers.